Removable Dentures on Implants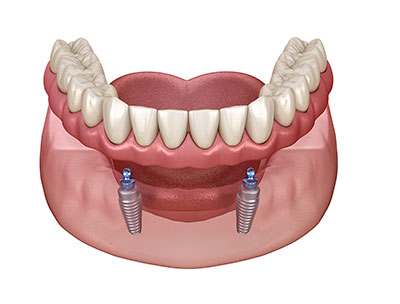 Removable Dentures on Implants
Removable Denture Services in the Grey Bruce Area
Steven T. Feige Denture Clinic offers denture implant services in the Grey Bruce Area and Hanover. Choose dental implants if you need to replace missing teeth or to hold a denture more securely. If you've lost teeth due to injury, decay, or gum disease, dentures are the right solution. Implant dentures are an effective solution for people who have failing or missing teeth. Find out if they're right for you!
Learn more about removable dentures in Hanover & Owen Sound
Many patients prefer being able to remove their dentures by themselves, without waiting for their denturist or dentist to do so. As such, removable dentures on implants are a great option for them. Patients also like being able to take out their dentures for easy and fast cleaning and maintenance. Not to mention, snap-in dentures tend to cost about half as much as permanent dentures on implants, making them a more affordable solution.
If you're excited to find out more about this denture option, we would love to discuss it further with you. Contact us today to book your consultation!

Benefits of Removable Dentures on Implants
There are many benefits of dental implants. Some of the most common advantages are:
Prevents bone loss
Resorption of tissue is reduced
Increased denture comfort and stability
Improved oral health, appearance, and the ability to eat
Restores your mouth to a natural state
Frequently Asked Questions
Are implant-support dentures removable?
Fixed and removable dentures on implants are both technically removable. However, fixed dentures on implants should only be taken out by dental professionals.
How many dental implants do I need?
Depending on the patient and the restoration, between two and six implants are usually necessary for both the upper and lower jaw.