Partial Dentures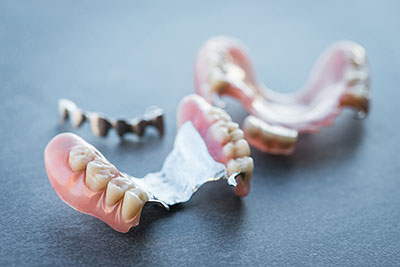 Learn More About Partial Dentures
Discover the Difference Partial Dentures Can Make
A set of complete dentures isn't the right choice for every patient. Instead, partial dentures that replace one or several teeth can often be just as effective. Rather than replacing all of your natural teeth with dentures, partial dentures just fill in any gaps from your missing teeth. Not only do they help complete your smile, but they also support your dental structures and prevent your remaining teeth from shifting to compensate for gaps.
Learn More About Partial Dentures
Partial dentures are usually one of two types: tooth-supported and tooth and tissue-supported. The difference between these two types is best explained by your denturist. The number of teeth remaining, their position, and stability make for a few factors that can determine the style or type of partial that is best suited for you.

Materials
Partial dentures can be made from different materials, including
Acrylics
Metal/acrylic combination
Flexible thermoplastics
Acrylic partials are used as transitional or temporary replacements of missing teeth. Metal or acrylic partials, also known as cast partials, are rigid and a permanent style of denture. They are light yet very strong.
Flexible thermoplastics are advantageous due to the aesthetics and flexibility they offer since they are metal-free. All partials are designed to be removable and need to be removed nightly to contribute to a healthy oral environment.
Speak with our denturist today to learn more.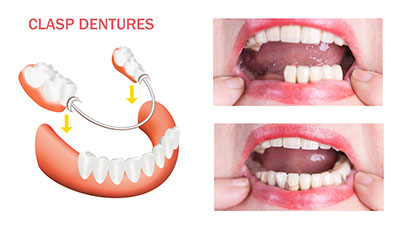 We offer flexible, personalized denture treatment plans that address all of your needs
Get in touch with us for more details about our denturist in Hanover or Owen Sound.
Frequently Asked Questions
What are partial dentures made of?
Partial dentures can be made from different materials, including acrylics, a combination of metal and acrylic, and flexible thermoplastics. Your denturist will get to know you and your specific needs to determine which material would be best for you.
Can you eat with partial dentures?
Most patients can comfortably and confidently eat with their partial dentures in, but it can take some time to get used to them. It's helpful to cut your food into small pieces, especially as you're adjusting to wearing dentures. Additionally, you'll want to be careful with particularly chewy or sticky foods that could dislodge your dentures.
How much do partial dentures cost?
The cost of partial dentures depends on many things, including the material used for fabricating them and how many teeth are on the partial denture. When you book a consultation with Steven T. Feige Denture Clinic, we would be happy to provide you with a quote for your specific case.